Underage DUI Lawyers Serving Las Vegas and Nevada
Getting a DUI at any age can be a daunting experience. However being a person under legal age to drink and being arrested for DUI comes with a whole other set of issues.
Since drinking or purchasing alcohol is illegal in Nevada for anyone under the age of 21 has already committed the crime of illegal drinking well before you were arrested for underage DUI.
Anytime you are accused of any crime, you need to hire a lawyer with experience with the crime that you are accused of.
Underage DUI can be especially tricky since it is not clear whether or not the offense will be tried in adult criminal court or juvenile court. The penalties and consequences are entirely different from one court to the other. You'll need a lawyer that can navigate in both criminal or juvenile court and know all the ins and outs of both.
When you are arrested for DUI timing is everything. You need to hire a lawyer immediately to avoid other circumstances that happen if your DUI is not handled in a timely manner. When you hire an experienced DUI lawyer they will be there every step of the way from arrest to trial.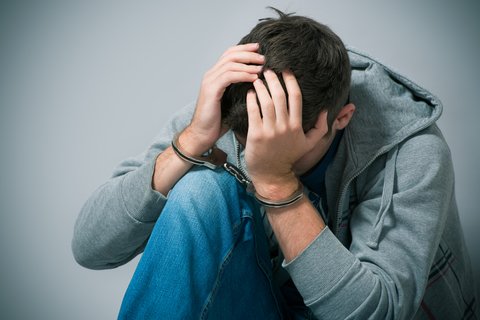 Facing Underage DUI Charges? Hire The Defenders
If your child, or someone you know, is facing underage DUI, we're here to help. The Defenders is a team of experienced DUI lawyers dedicated to defending the rights of people facing underage DUI. We're committed to getting you or your loved one the best outcome possible so they can move past this incident and get their life back on track.
When you hire The Defenders, you'll know that you have someone fighting for you throughout this difficult time. Contact us today for a free case evaluation!
Frequently Asked Questions
Can my child be charged as an adult?
Depending on the severity of the crime, or if it is a repeat offense, your child might be classified as an adult, resulting in them being charged as an adult. This can negatively impact their future since these charges would remain on their record well into adulthood, impacting possible employment and educational growth.
How Can My DUI Lawyer Help Me When I'm Arrested for Underage DUI
Once you are arrested for underage DUI, you will be processed at the police station. Depending on your age, the consequences vary. For minors aged 18-20, they will be treated as an adult; under 18, you'll be treated depending on the severity of the DUI. This means you can go either juvenile court or the adult/criminal court.
After your arrest, you will be processed and put in a holding cell while you wait to be released. For misdemeanor DUIs, you will most likely be released to your parents or guardians. If however you get arrested for felony DUI involving bodily injury or death of another you may need to post bail or attend a bail hearing.
Discover what to expect when meeting a DUI lawyer. Get a sneak peek at the process and gain insight into what lies ahead in this process.
Assist You with the Entire Bail Process
Once you've hired a DUI specialist lawyer, they can direct your family to a trusted bail bonds company if you cannot post bail yourself. Your lawyer can also direct you on how to post bail if you have never done it before.
If you are held for the most serious DUI charge of Felony DUI and a bail hearing is requested, you need an experienced DUI lawyer to attend your bail hearing, where bail will be set by a judge.
A DUI lawyer will argue for the lowest bail possible or to be released on your own without bail.
This can minimize the amount of money your or your family will have to spend to get you out of jail.
Contrast this for a misdemeanor DUI where you will be processed and maybe have to spend a few hours in jail but your jail sentence will most likely be suspended as long as you fulfill all other penalty requirements.
Just remember arrest and jail come before trial in this case so hiring the right DUI lawyer immediately after a DUI arrest is important.
Request and Attend the DMV Hearing on Your Behalf
When you employ a DUI lawyer, they will do much more than just accompany you in court – they will be your advocate and defender throughout the entire legal process.
One of the first things that your lawyer will do is request a DUI hearing at the DMV.
This hearing is basically a mini trial that takes place at the DMV and determines when your license will be suspended.
This hearing must be requested in writing within seven days of your arrest.
If you lose your DMV hearing, your license will be suspended automatically. A DMV hearing is not required, but most, if not all, people attend a DMV hearing.
Your DMV lawyer will file the request for you and attend the hearing for you.
In most cases, you will not have to attend the hearing if you have hired a DUI lawyer in Nevada.
Investigate Your Case and Fight for Your Rights
Your DUI lawyer will use their experience and resources to investigate your DUI arrest.
From the first contact with the police to the actual trial date, your lawyer will investigate all aspects of the charges against you. There can be many reasons that your case could be dismissed or you could be found not guilty. Maybe the police had no probable cause to pull you over in the first place. Perhaps the police did not follow protocol and administer the breathalyzer or field sobriety test correctly. It could even be that your rights were violated in ways that would make your case inadmissible.
Your DUI lawyer will research all potential defenses of your case and prepare a solid defense strategy to present at trial if needed.
DUI charges are never dropped in Nevada unless it can be proven that you were not drunk driving or the Field Sobriety Tests were issued incorrectly or the breathalyzer was not properly calibrated.
In some cases, DUI charges can be reduced to reckless driving, but this is rare. Only an experienced DUI lawyer can find the evidence to have the charges dropped.
Your DUI Attorney Will Go to Trial for You
If you are arrested for underage DUI or even a regular DUI, you'll need an attorney. The choices you make immediately after you have been arrested can have a direct affect on your future so choose wisely.
Any DUI conviction comes with many penalties and fines and can cost the average person somewhere around $10,000 when it's all said and done.
During a court hearing your DUI lawyer can negotiate the terms of the penalties. This can include the amount of fines you'll pay to the court, the length of time your license will be suspended, how much community service hours you'll have to do or the amount of jail time you'll need to submit too.
You will be required to attend DUI school if convicted. The length of time you'll have to attend and the cost is determined by the court. DUI school can be expensive and require many hours of your time.
Your lawyer can negotiate the minimum amount of time spent at DUI school based on the circumstances of your specific DUI case.
What Happens After Your Underage DUI
In most cases, your DUI lawyer will be there from the start of your case until the end. But there are things that your DUI attorney can offer that can be helpful moving forward even after your case has been settled.
For example, since any reputable DUI law firm, like The Defenders, have been handling DUI cases in Nevada for many years, they have insight on things like where to get car insurance after a DUI arrest.
In a lot of cases your insurance company may drop you as a client when you are arrested for DUI, even before you go to court.
Just the arrest can trigger an insurance company to drop you. Your DUI attorney might be able to guide you and have information on what insurance company to go to after a DUI.
Your lawyer can also help you set up a payment plan for court fees and fines if you are unable to pay your fines in full at the time of your court hearing.
They can also guide you on where to apply and go to DUI classes and MADD impact classes. So even after your DUI case your DUI lawyer can offer insight that can be helpful going forward.
Why Hire The Defenders
The Defenders are here to help.
We have been representing clients charged with various crimes including DUI for many years.
The Defenders is a criminal law firm that also represents defendants that are charged with other felonies, misdemeanors, domestic violence, sex crimes and even murder cases.
It is important to know that time is critical.
Waiting to hire a lawyer can be costly in more ways than one.
The choice of a law firm is critical and can make a lifetime of difference. You will need to hire a Nevada based attorney if you are arrested for underage DUI even if you don't live in Nevada.
A Nevada based DUI lawyer knows the ins and outs of the local court system and laws.
The Defenders has proven results for our clients.
Our experienced attorneys will fight for you in court and make sure that every detail of your case gets a fair chance. Don't wait, The Defenders are here to help so contact us today for a free case evaluaton.